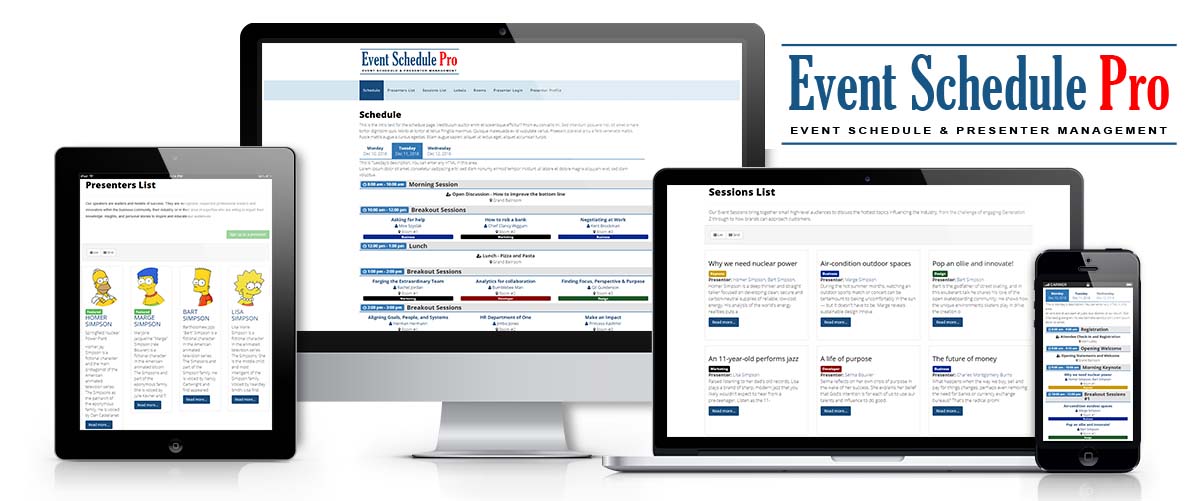 Event Schedule, Agenda, and Speaker Management for Joomla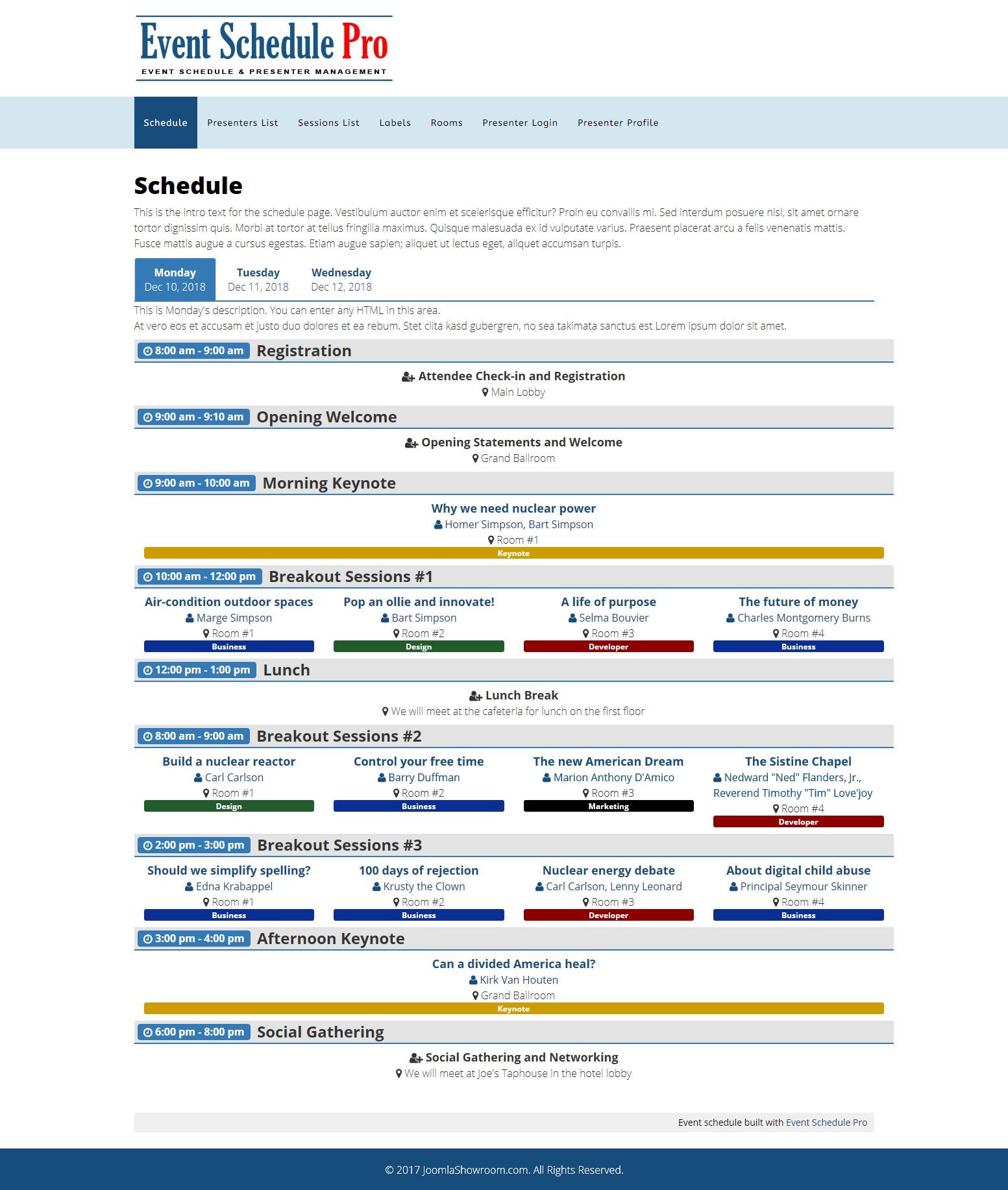 Event Schedule Pro is an event schedule, agenda, speaker, and event sessions management system for the Joomla CMS.
Allow your event speakers to sign up and submit session topics for your next event. Then use the drag and drop schedule builder to display your event schedule with ease.
Do you need an all in one solution to manage your event or conference speakers, sessions, and schedule? Then Look no further.
Event Schedule Pro was built for YOU!
With loads of features that will make your event management much easier, faster, and looking more professional than ever, Event Schedule Pro is your best solution for all aspects of event agenda and speaker management.
Current Version: 1.0.4 Stable
Updated on: 17 Aug, 2018
Event Schedule Management Made Easy
Meet the drag and drop, multi-track, agenda builder and speaker management software

Here's some highlights of what Event Schedule Pro can do for your event.
Open call for papers
Speaker/Presenter registration
Session and topic submissions
Approval/Reject workflows
Supports multi-day events
Customizable email templates
Easy to use Drag and Drop Schedule Builder makes it easy to quickly create schedules.
Customize the schedule format to fit your event & venues.
Easy to schedule sessions & view progress
Easy to modify when event details change
Speaker/Presenter Listings
Session Topic Listings
Flexible, intuitive interface
Unlimited rooms and time slots
Session labels/Levels
Responsive design
Full documentation
Fully Supported
And much more...
***Version 1.0.4***
Bug Fixes
1. Fixed an issue where sessions that were assigned to rooms were not being displayed on the Room list and Room details views.
***Version 1.0.3***
Bug Fixes
1. Fixed Presenter Image upload issue for some servers and php versions.
2. Fixed user activation for presenter registrations using activation link of email issue.
3. Fixed row with 5 columns not getting proper width at backend and frontend.
***Version 1.0.2***
Bug Fixes
1. Fixed presenters image directory was not being created on some installations.
2. Fixed the presenter agreement text area from stripping out HTML tags.
***Version 1.0.1***
Bug Fixes
1. Error when creating and saving new presenters has been fixed.
***Version 1.0.0***
Initial Release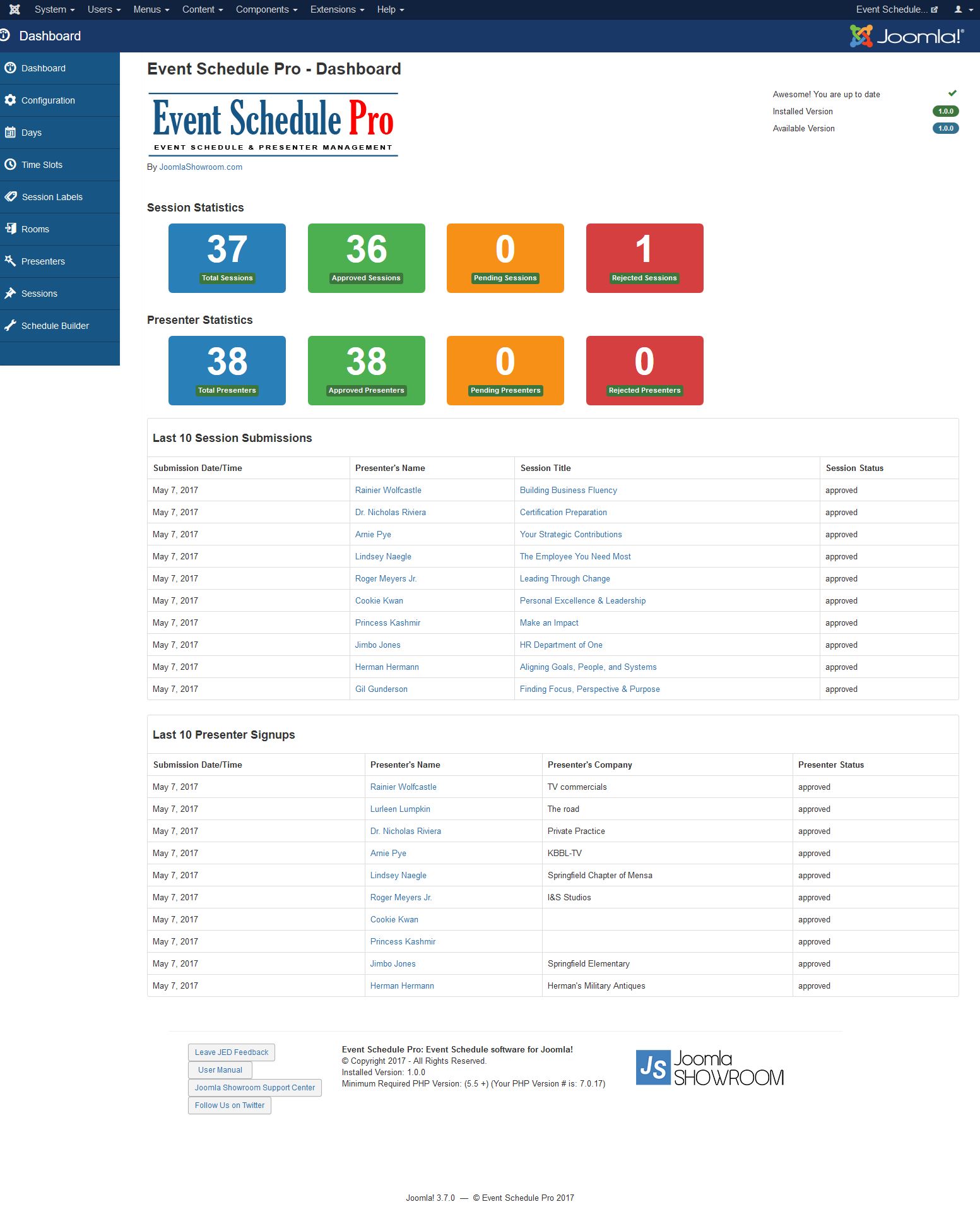 Robust Speaker Management
Potential event presenters can sign up and fill out their personal bios, upload profile photos, and submit proposals for sessions and talks. Approval workflows allow for speaker notifications of approved talks, sessions and even if they have not been selected to speak at the event.
Drag & Drop Agenda Creator
Once all your speakers have subitted their talks and sessions you can build a single or multi day agaenda using the built in drag and drop schedule builder. This robust feature allows you to easily move sessions around into different time slots and columns.
Rooms and Time Slots
Create multiple rooms (session location) where each session will be held and time slots that each session will take place. Add descriptions for each room to highlight additional information for your attendees. Display all sessions taking place in a single room or show a list of all rooms.
Session Managment
All session submissions by the speakers can go through an approval process that allows for the selection process to be managed easily. Make internal notes when rejecting or approving sessions and speakers to allow multiple administrators to see the status of all submissions.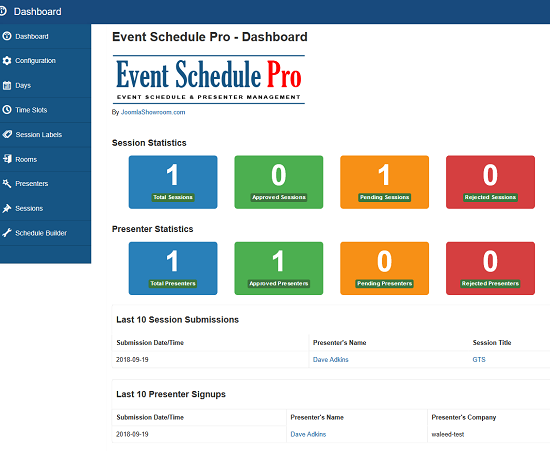 View Statistics
Recent Speaker Signups
Recent Session Submissions
Easily manage all speaker data
Automated approval emails
Manage sesion submissions
Multiple Workflow Statuses
View Pending, Approved, Denied
Multiple Status Email Templates
Automated email templates
Manage 100's of sessions
Event Agenda & Schedule
Flexible mobile friendly responsive design allows your schedule to be accessed on all devices.
Supports multi-day events
Each time slots can have up to 6 columns
Unique schedule layouts for each day
Each day can have it's own description
Colored Session Labels
Links to session details, speaker bios, and room info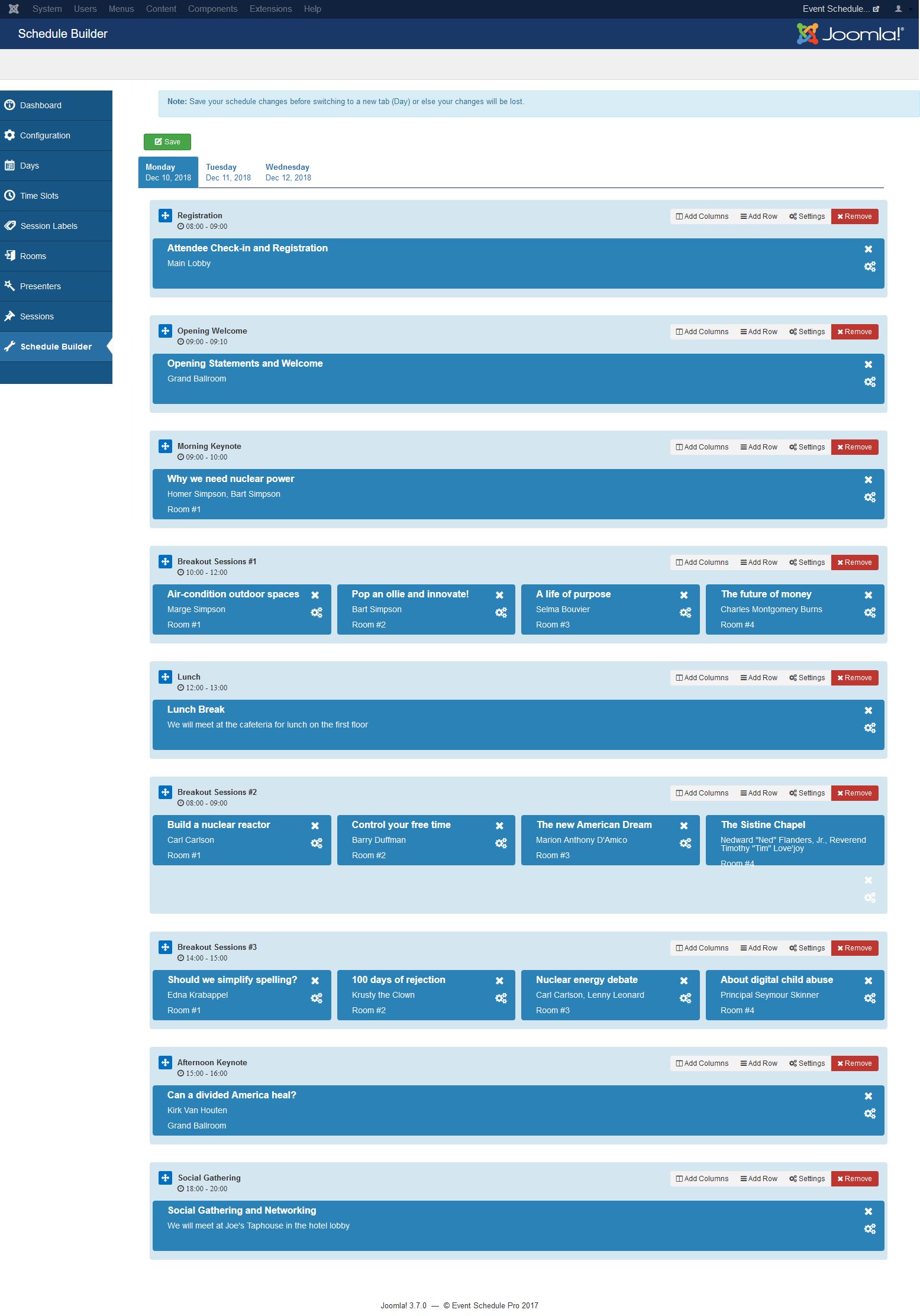 Drag & Drop Schedule Builder
Create up to 6 columns of tracks
Easily drag sessions to different columns or time slots
Create unlimited time slots (rows)
Create text based slots for lunch, breaks, and social gatherings
Flexible Layout Options
Event Speaker Presentation
Show off your event speakers & presenters in a list or grid format
Event presenter profile images
Event presenter bios
Links to presenter's social network accounts
Links to presenter's scheduled sessions
Mark featured presenters
Presenter list intro text
Show a button to encourage visitors to sign up as a speaker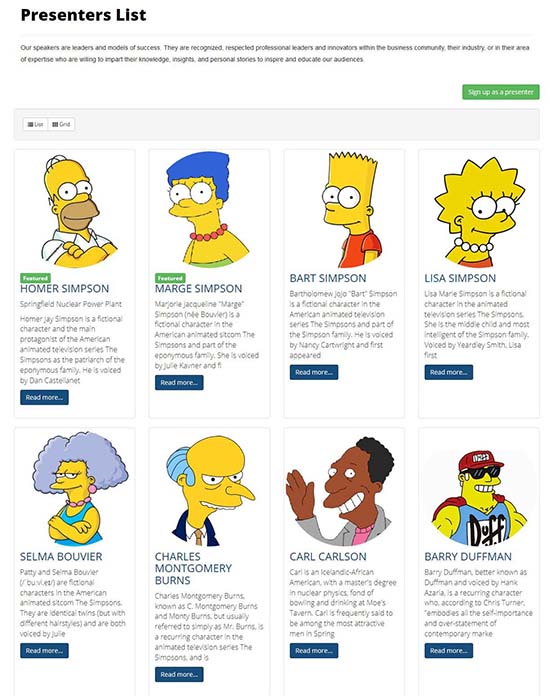 Email Templates
Custom email templates allow admins to adjust messages sent for speaker and admin emails.
Status change notifications
Approval/Rejection notifications
Admin notifications
Approval Workflows
Approve/Reject Speakers
Approve/Reject Sessions
Review pending submissions
Admin notes
Ready To Take A Test Drive?
We have two options to choose from for our demo sites. Please select the demo for the version of Joomla you are using below. Our demo sites reset automatically every hour in order to keep the demo content clean and presentable.
Joomla 3
Joomla 4 (Coming Soon)
1 year of access to updates and support
Lowest overall cost
Easy annual subscription
Software updates
VIP support ticket access
50% discount to add custom features